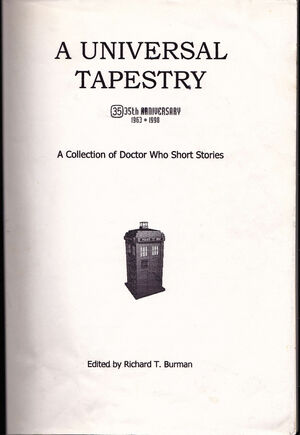 A Universal Tapestry was the first non-Monomyth title to come from the team behind that magazine, being created, edited and produced by Richard Burman.
It is a fan fiction collection of short stories "from across the universe of Doctor Who", inspired by the famous BBC science-fiction programme and released to celebrate its 35th anniversary in November 1998. Dating from a time before expansion of the roster of titles led to the Atlantean Publishing stable name, it is classified here as a Related Publication rather than an Atlantean production 'proper'.
The collection was planned as a ten-story 'decalogue': one each for the then eight Doctors as they "encounter and mend the threads that make up the universal tapestry", plus two left free to feature "special" instances involving multiple Doctors or none, for instance. Deadline pressures meant that the finished volume actually contains just six stories, but with half of them extending to around 10,000 words apiece, these spread across no fewer than 62 A4 pages.
From the Foreword
Edit
"He sees the threads that join the universe together, and mends them when they break."
—Zastor, of the Doctor
from Doctor Who: 'Meglos', 1980
Printed by "D. Mason Print Ltd, Aberystwyth" — in fact Darrel Mason.
Aborted sequels
Edit
The successful release of A Universal Tapestry meant that at separate stages two different sequel collections were planned, opened for submissions, and even advertised within Atlantean titles — but for various reasons neither saw publication:
A 'spiritual successor' was released for Doctor Who's 40th anniversary, though, in the shape of DJ Tyrer's one-man decalogue Out Of The Vortex.