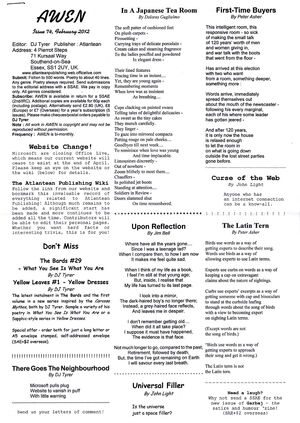 Awen is one of the five print 'zines published by Atlantean Publishing. Now normally eight A4 sides in length, it contains poetry and short prose fiction and has appeared four times a year since 2013. It is edited by DJ Tyrer.
Issues were bimonthly but only four or six sides of A4 until the end of 2011, when to combat steep postage rate rises there was a change to fewer, longer issues — five appearing in 2012 then four the next year. Although initially conceived as a limited duration 'zine during the Monomyth hiatus to clear the poetry backlog, it proved extremely popular, kept going and is now nearing the hundred issue mark.
Issues 92 onward are available to download in pdf.
Awen had an online sister 'zine, in the form of Awen Online (subsequently replaced by View From Atlantis).
Issues by year
2000
2001
2002
2003
2005
2006
2007
2008
2009
2010
2011
2012
2013
2014
2015
2016
2017
2018
2019
Community content is available under
CC-BY-SA
unless otherwise noted.