Jurassic World: Dominion Dominates Fandom Wikis - The Loop
Play Sound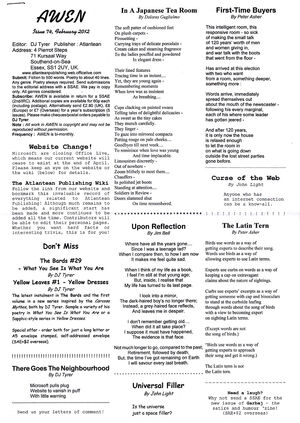 Awen is one of the five print 'zines published by Atlantean Publishing. Now normally eight A4 sides in length, it contains poetry and short prose fiction and has appeared four times a year since 2013. It is edited by DJ Tyrer.
Issues were bimonthly but only four or six sides of A4 until the end of 2011, when to combat steep postage rate rises there was a change to fewer, longer issues — five appearing in 2012 then four the next year. Although initially conceived as a limited duration 'zine during the Monomyth hiatus to clear the poetry backlog, it proved extremely popular, kept going and is now nearing the hundred issue mark.
Issues 92 onward are available to download in pdf.
Awen had an online sister 'zine, in the form of Awen Online (subsequently replaced by View From Atlantis).
Issues by year
2000
Awen 1

Awen 2

Awen 3

Awen 4

Awen 5

Awen 6

Awen 7
2001
Awen 8

Awen 9

Awen 10

Awen 11

Awen 12

Awen 13
2002
Awen 14

Awen 15

Awen 16

Awen 17

Awen 18

Awen 19
2003
Awen 20

Awen 21

Awen 22

Awen 23

Awen 24

Awen 25
Awen 26

Awen 27

Awen 28

Awen 29

Awen 30

Awen 31
2005
Awen 32

Awen 33

Awen 34

Awen 35

Awen 36

Awen 37
2006
Awen 38

Awen 39

Awen 40

Awen 41

Awen 42

Awen 43
2007
Awen 44

Awen 45

Awen 46

Awen 47

Awen 48

Awen 49
2008
Awen 50

Awen 51

Awen 52

Awen 53

Awen 54

Awen 55
2009
Awen 56

Awen 57

Awen 58

Awen 59

Awen 60

Awen 61
2010
Awen 62

Awen 63

Awen 64

Awen 65

Awen 66

Awen 67
2011
2012
2013
2014
2015
2016
Awen 91

Awen 92

Awen 93

Awen 94
2017
Awen 95

Awen 96

Awen 97

Awen 98
2018
Awen 99

Awen 100

Awen 101

Awen 102
2019
Awen 103

Awen 104

Awen 105

Awen 106