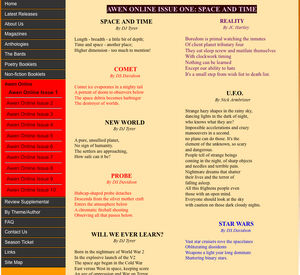 Awen Online
is an irregular
online
sister
'zine
to
Awen
, largely devoted to poetry, although some short prose fiction has appeared in four of the issues. Edited by
DJ Tyrer
, it has had homes on three consecutive
Atlantean Publishing
websites. Twelve issues, each based around a different theme, have been published between November 2004 and September 2014, plus a sample '
issue zero
'.
After a lengthy hiatus, it was replaced by View From Atlantis, utilising the poems that had been accepted for issue 13.
Issues and Themes
Sample Issue
A temporary sample issue existed prior to issue one going online, as an example for potential contributors, but was then taken down. One piece from it, the story 'Sir Blodry of Britain', was later used in the original version of the third issue — although this was removed again in 2009, as it was not taken across to the then new Atlantean website with the rest of that issue.
Runs
Original Run
Issues one to seven appeared on DJ Tyrer's original Geocities website (as had the sample issue) between November 2004 and January 2009. When he set up an Atlantean-dedicated site, at MS Office Live, they were transferred there in June 2009.
Second Run
Issues one to seven appeared on the new Atlantean website as they did on Geocities, with two small exceptions: the poem 'Creeping Terror' was relocated from issue two to the Awen Online index page due to constraints of space, and the story 'Sir Blodry of Britain' was not carried across with issue three due to length. Issue eight appeared in August 2010 after a hiatus of over a year, with a further year elapsing before issue nine appeared in August 2011. What was thought likely to be the final issue was posted there on 1st February 2012, following the sudden announcement of the closure of Office Live by Microsoft.
Third Run
With the imminent closure of Atlantean's web host, Awen Online looked to have come to a natural end, although in March 2012 the entire content of the ten existing issues was transferred to the newest Atlantean website at Blogspot, so the e-zine's archive at least could continue to maintain a presence on the web. After a further wait of merely two years an eleventh issue finally appeared to continue the lineage on March 2nd 2014 and the twelfth followed six months later.
Rather than resurrect the brand after a lengthy hiatus, it was replaced by a new site in September 2018.
Although the term 'hiatus' is more often applied in these parts to what could otherwise be named the Great Monomyth Hiatus, the term has also been applied to the three-year gap (September 2005 to September 2008) between the fifth and sixth issues of Awen Online, and also to the year-and-a-half gap surrounding its move to a new home in 2009 that preceded a first post-move issue in 2010, not to mention the subsequent gap of another year before the ninth issue. After the chaos of the further move there was the second-longest such hiatus to date, of just over two years (February 2012 to March 2014) between the tenth and eleventh issues. By this stage, it has become apparent that 'on hiatus' seems to be the natural state for Awen Online...!
Contributors
There is a complete, alphabetical Contributors to Awen Online list on this site. Aeronwy Dafies, DS Davidson and DJ Tyrer have been the most frequent contributors.
Trivia
Aeronwy Dafies is the only person to have contributed to all twelve issues.
Issue five has the most individual contributors of any issue.
Issues one to five ran with regularity. After issue five, the longer gaps between issues led to a wider variety of contributors.
Community content is available under
CC-BY-SA
unless otherwise noted.