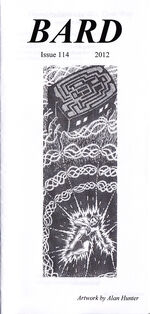 Bard is one of the five ongoing print 'zines produced by Atlantean Publishing. It is a single A4 'broadside' sheet folded in three and consists of poetry. A very wide variety of authors has appeared within its covers, as each issue tends toward containing a multiplicity of short works and typically no more than one piece per poet. Bard is approximately monthly (sometimes more or less frequent), and in 2012 celebrated a decade of existence; it has now amassed over 140 issues. It is edited by DJ Tyrer.
Spin-off series
Bard has inspired the solo-poet series The Bards, Yellow Leaves, Xothic Sathlattae and the Xmas Bards, which use the same broadside format.
Covers gallery
See also the Bard Covers Gallery for a side-by-side view of all the illustrations to have graced the front of Bard over the past eleven years, which can be clicked-through to their individual issues.
Issues by year
Complete details — contents lists, front cover scans and assorted trivia facts — have now been uploaded to this wiki for every single issue of Bard (below) from the very first to the most recent.
2002 (4)
2003 (13)
2005 (12)
2006 (8)
2007 (11)
2008 (11)
2009 (7)
2010 (11)
2011 (15)
2012 (14)
2013 (11)
2014 (13)
2015 (9)
2016 (9)
2017 (10)
2018 (8)
2019 (9)
2020 (-)
Trivia
The 'broadside', tri-folded format of Bard was inspired when DJ Tyrer was working in public relations producing flyers in this style and realised how perfect it would be as a format for poetry.
Despite starting more recently than most of Atlantean Publishing's other 'zines, there have been more issues of Bard than of any other Atlantean publication, with the next highest tally belonging to Awen.
The slowest complete year of production was 2009, which saw only seven issues appear. In contrast, Bard has more recently gone through a purple patch, with a record fifteen issues appearing in 2011 and fourteen in 2012.
Community content is available under
CC-BY-SA
unless otherwise noted.