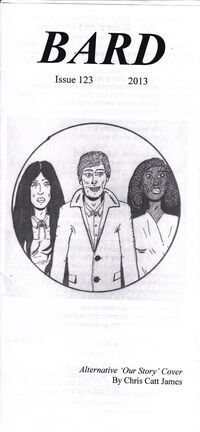 The 123rd issue of
Bard
was published in March 2013 with cover art (
Alternative 'Our Story' Cover
) by
Chris Catt James
.
The cover art is, as suggested by its caption, an alternative cover design produced for DJ Tyrer's (nearly simultaneously-released) poetry collection, Our Story.
As explained in a footnote, the title of An anecdote after Ambrose Bierce refers to the American author who, among several claims to fame, is notable for the magnificently ambiguous ending to his own life: aged 71, he embarked on a tour of his old Civil War battlefields that led him to cross south into revolutionary Mexico, where he vanished without trace around December 1913. His final letter concluded "As to me, I leave here tomorrow for an unknown destination" — words that proved stunningly apt. He is also known for writing the satirical lexicon The Devil's Dictionary, and introducing through his short stories several concepts that would later become key elements of the Yellow Mythos.
Community content is available under
CC-BY-SA
unless otherwise noted.