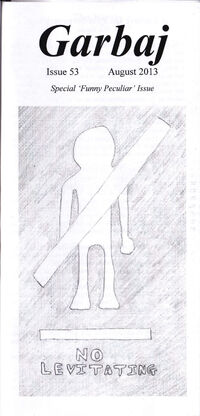 The
Special 'Funny Peculiar' Issue
issue of
Garbaj
was released in August 2013. It was a
Bard
-style micro-issue and featured a cover cartoon (
No Levitating
) by
DJ Tyrer
.
The cover cartoon was inspired by a sign in Southend-on-Sea advising pedestrians not to cross the road in which the pedestrian figure appeared to be floating above the ground.
The issue has a loose paranormal and strange theme.
Odd by Danny Tuohy
The dead have risen and are voting Zanu-PF!
Is The Universe Flawed? by John Light
Sci-Fie, Foe, Fum by John Light
Breaking news — Greek man accused of Lesbian affair after dirty weekend on Lesbos.
Spain mates with Argentina to rebirth Hispanic imperialism upon the Atlantic waters, seeking to smother liberty with US/EU connivence.