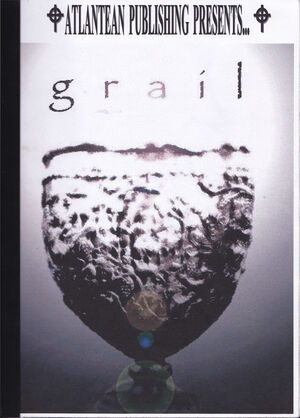 First volume in what has come to be known as
The Grail Series
of
anthologies
from
Atlantean Publishing
,
Grail
was open to any prose story or poetry featuring or relating to
the 'Grail'
in some way: not just a gilded chalice or Celtic cauldron, but any variation on the quest object theme — not just fantasy or history, but science-fiction, humour and horror. Some of the tales directly relate to the Grails of mythology, others play with the concept. Published in 2004, it is A4 in format, 35 pages in length, and was edited by
DJ Tyrer
.
"This small press production is an anthology of poetry and fiction by contemporary writers that presumably have not made their way into mainstream literary works. That is not to say that the material presented is not worthy of inclusion in anthologies by major publishing houses. Several of the pieces presented are well written and entertaining. There is something for every grail seeker, no matter what definition is endorsed, in this unpretentiously bound booklet.
Opening with a simple, straightforward poem, The Grail, about the grail and man's attempt to attain it, by Aeronwy Dafies, the editor chooses to close with a weighty poem, Steve Sneyd's Of a care in what you wish for. Steve ponders the quest for uniqueness by human beings, while demonstrating, using a substantial number of myths and legends, the universal sameness of individuals and life.
Between the two poetic offerings, we have seven short stories, DJ Tyrer's The Stone of Heaven presents an ecclesiastical origin of the grail. The consequences of an attempt to deceive true believers in the grail are disastrous and unexpected in Chris Lovegrove's entertaining short story, Fallen From Heaven. Two tales can be directly associated with the Arthurian legend: Island of the Dawn by Pamela Harvey follows the fate of a group of Romano-Celts during the Saxon take-over (succession) of Britain, and DJ Tyrer gives us a humorous interpretation of the truth behind Galahad's attainment of the grail in Ye Tale of Ye Grale. A malevolent grail is encountered in DS Davidson's science fiction story, The Grail of Derwandir and a 'grail' to set right the many dimensions of the world is sought after in Neil K. Henderson's science fiction-fantasy, Magusto and The Fulcrum. Lastly, a child's encounter with the Fisher King and her chance to change the fate of the world is related in Aeronwy's The Fisher King.
A unique volume that entertains, THE GRAIL should be read by lovers of fantasy and fiction and is a must have for those who hope to own everything in the way of Arthurian literature."
— by Larry Mendelsberg
Community content is available under
CC-BY-SA
unless otherwise noted.