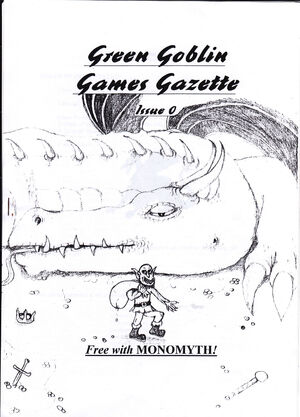 The
Green Goblin Games Gazette
(a.k.a.
4G
) was a
one-off
roleplaying fanzine, released in mid-2000 in an A4 format and edited by
DJ Tyrer
. As a concept, it was one of the earliest
Atlantean Publishing
side-projects intended to become distinct from
Monomyth
.
The title was planned to appear quarterly from January 2001; aside from its main focus on roleplaying (including articles, reviews, scenarios etc.), it would also have included gaming-related fiction, poetry and artwork, and covered the likes of board games, wargames, miniatures and 'Choose-Your-Own-Adventure'-style gamebooks too. In fact, its solitary edition – billed as an introductory "Issue Zero" – appeared in tandem with a short 'gamebook' in this style, The Tombs of Aghakhorr: both were bundled as free, removable supplements with volume 2.12 of Monomyth. This, though, turned out to be the final issue of the magazine released prior to its hiatus, a long period of uncertainty and repositioning – and one effect of this delay was that notions of a continuing run for '4G' fell by the wayside; it has not entered production beyond this opening gambit.
The issue includes a tantalising 'Coming Next' subsection, a short paragraph which, together with the 4G Guidelines, describes many of the contents of a never-to-be-seen Issue 1 and beyond. Considering that the series was destined to be aborted before reaching publication, this nevertheless goes into quite considerable detail, showing it was evidently rather thoroughly planned.