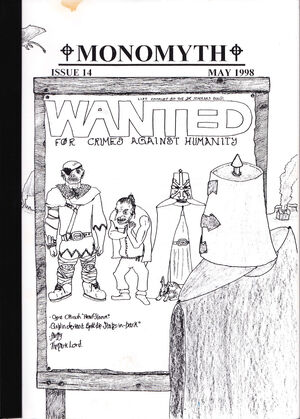 The fifteenth issue of Monomyth (designated 14
at the time
) was released around August 1998 or later, several months late. It featured a memorable cover by
Ian O'Reilly
.
List of contents
Edit
Concluding Section
Edit
This is both the first issue to have a significant number of internal illustrations (three by Ian O'Reilly, one by David Leverton and one by Richard Burman, in addition to the Monomirth cartoons) and the first to include a large number of poems, a precursor to both post-hiatus issues of the magazine and Atlantean Publishing's later trend towards poetry.
Paul Pinn – author of Prelude, published two issues earlier – was the first ever person to write a letter to the editor, beginning a trend that continues vigorously in each issue of The Supplement!
This issue marks the first time Steve Sneyd, Cardinal Cox, David Leverton and DS Davidson contributed to an Atlantean publication.
All Teeth And Curls is an accompanying article to Doctor Who story Lazy Afternoon, which featured the Fourth Doctor.