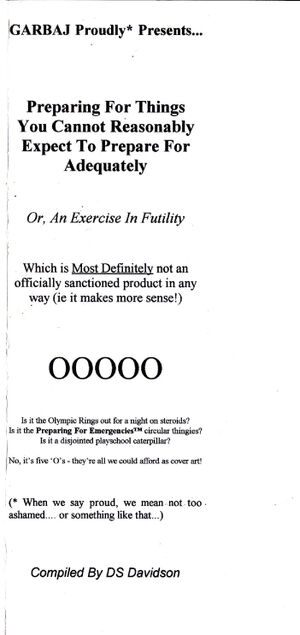 Preparing For Things You Cannot Reasonably Expect To Prepare For Adequately – or, An Exercise In Futility is a unique spin-off pamphlet published under the Garbaj banner, "compiled" by DS Davidson and a single folded (Bard-style) A4 sheet in format, released in late 2012.
A tongue-in-cheek mocking of official government Preparing For Emergencies advice, and with the easy-to-remember-in-a-crisis acronym PFTYCRETPFA(OAEIF), it contains 'helpful' factoids about various potential dangers to life and limb that may be faced by citizens of the UK in the present day or near future – terrorist threats, attack by zombies, boring relatives, etc. – and what you can do to avoid them, defend against them or profit from them...
For more information on what to do in every conceivable kind of fictional crisis, particularly in the vicinity of the unfashionable end of the western spiral arm of this particular large clump of stars and dark matter most of us inhabit, we recommend the Hitchhiker's Guide to the Galaxy.
See also the 2012 end times for more on the demise of the known world. As the saying goes, though, don't panic.
A sequel (of sorts) is now available.
Community content is available under
CC-BY-SA
unless otherwise noted.