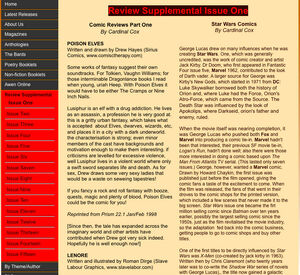 Review Supplemental was an irregular online counterpart to The Supplement (hence the name), primarily hosting reviews. Its content was generally what space constraints had kept out of the print 'zine. It was originally hosted on editor DJ Tyrer's Geocities website, before being moved to Atlantean Publishing's Office Live site in mid-2009. Fifteen issues were published between April 2005 and September 2011. Upon the demise of Office Live in 2012, some pieces were moved to the editor's Atlantean blog, where occasional extra reviews have also since appeared.
Issues
Runs
Original Run
Essentially acting as a supplement to The Supplement, issues one to eight appeared on the Geocities website between April 2005 and April 2008. They were transferred to its then-new replacement site on 29th June 2009.
Second Run
Issues one to eight appeared on the Office Live website as they did on Geocities. Issue nine was added on the same day that they were transferred, marking a rebirth of the 'zine that continued there as far as issue fifteen.
New Incarnation
With the Office Live website due to vanish at the end of April 2012, a fresh incarnation of Review Supplemental appeared on the new Atlantean Publishing blog when selected articles and reviews were moved across on 30th March 2012, with the promise of new articles to come in the future.
The following articles and reviews were moved across:
For a (currently incomplete) list of articles on the blog, see Review Supplemental (Blog). Several new reviews have been added by DJ Tyrer since the move took place.
Although the term 'hiatus' is more often applied to what could otherwise be named the Great Monomyth Hiatus, the term has also been applied to the over-a-year gap dividing issues seven and eight, and the further gap of just over a year between issues eight and nine. There was also an exact one-year gap between issues nine and ten.
Contributors
There is a complete, alphabetical list of Contributors to Review Supplemental. DJ Tyrer, Cardinal Cox and David Leverton were the most regular contributors.
Trivia
DJ Tyrer is the only person to have contributed to all fifteen issues and was also sole contributor to issue ten (the Leigh Folk Festival issue).
Cardinal Cox contributed to all of the eight issues prior to the move, as well as issue nine.
David Leverton contributed to each of the last five issues.
The first three issues appeared monthly.