Jurassic World: Dominion Dominates Fandom Wikis - The Loop
Play Sound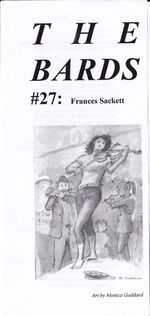 The Bards is an irregular series of short poetry 'broadsides', a folded A4 sheet in format, inspired by Bard. It differs from its parent title in that each issue is dedicated to the work of a single author — they are intended to be handed out at poetry readings or for readers to purchase as affordable samplers of a poet's work. It is edited by DJ Tyrer.
"Why not try a handful? You could find something compellingly fine and be hooked" — review in Krax
Spin-off series
This title has, in turn, now inspired descendants of its own in a similar style, only themed: Xmas Bards and Yellow Leaves are two recently-established series that use the same format, while Xothic Sathlattae is a brand new addition publishing Cthulhu Mythos-related poetry.
Covers gallery
The cover designs for all the issues of The Bards can be seen together at The Bards Covers Gallery, where they can be clicked-through to their individual issues.
Issues
Note: Due to changes in how they are printed, some early copies have recently been reformatted, but this has made no tangible difference to the content except for the updating of address and website details.
Review of The Bards 1, 2 & 3
"THE BARDS is a series of A4 folded sheets each presenting a selection of poems by one poet. No. 1 has 8 poems by AC Evans. These describe the present as already nearly the future — at least, that's how it seems to me but perhaps that's because I live in Berwick-upon-Tweed where the present may still be the past, or maybe vice versa. The images in these poems are sharp, the language is urgent and in places uncomfortable: the author's world is not a cosy one — it is too much like the real one. This pamphlet is worth more than the ten pence plus SAE asked for it. No. 2 contains 9 poems by Geoff Stevens. Enigmatic and ironic, sometimes angry, they illuminate life from the side and throw bits of it into unfamiliar relief. This is another selection that is well worth the money — never mind the length, luxuriate in the quality! No. 3 has a beautiful cover by AC Evans and the 9 poems are from Christopher Brewer. The language of these is more straightforward than in the other two collections, the beauty of it is different to theirs and there is rhyme, an aspect of poetry now often derided, but when skilful and not forced, it makes the poems sing in a way that blank or free verse never can.
If you buy all three of these, it would cost you 30 pence (and only one stamp) and not only would you have an introduction to or reminder of three accomplished poets, but a miniature celebration of the diversity of contemporary poetry."
— by
John Light