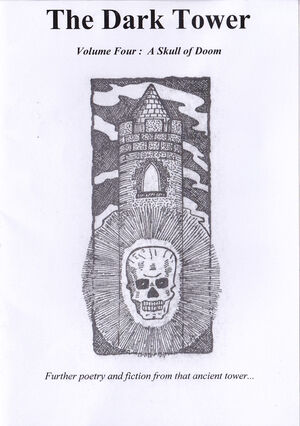 The Dark Tower — Volume Four: A Skull of Doom is an A5 multi-author booklet inspired by the theme of the eponymous 'dark tower'. The subtitle comes from its opening poem, by Christopher Catt James, who also contributes the cover art.
Published in 2014, it is the fourth collection — after a seven-year gap — in a sequence that has come to be known as The Dark Tower series. It is also, rather remarkably, the five-hundredth print publication to be produced by Atlantean Publishing in the seventeen and a quarter years since the very first issue of Monomyth.
Unlike the previous three instalments in the series, Volume Four includes one prose story alongside its poetry content.
Rear Cover
Edit