Jurassic World: Dominion Dominates Fandom Wikis - The Loop
Play Sound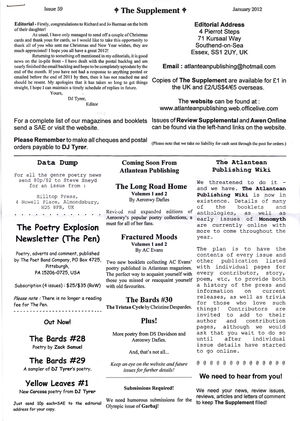 The Supplement is one of the five 'zines published by Atlantean Publishing. It contains small-press news and advertisements, reviews covering new publications from small presses, independent and mainstream books, films and much more beside, and various articles on an equally wide variety of topics — as well as the occasional poem or very short piece of fiction, often related to the non-fiction content. This is also where all the Letters to the Editor received at Atlantean appear: the numerous messages of comment, thanks and points of debate received ensure a lively discussion goes on from issue to issue on the letters pages.
The Supplement is a quarterly, A4 publication and is usually ten pages in length. It is edited by DJ Tyrer. It was originally known as The Monomyth Supplement (see that page for a little more on its origins), conceived initially as a temporary stopgap during Monomyth's lengthy 2000-'03 hiatus. Despite this, it has flourished ever since and amassed nearly seventy issues, overtaking its parent title, and reached its own ten-year anniversary in late 2012. It has also spawned its own occasional online supplement, in the form of Review Supplemental.
Issues since 77 are available to download in pdf.
"Highly informative" – review of issue 59 in Krax
Issues
Monomyth Supplement 1

Monomyth Supplement 2

Monomyth Supplement 3

Monomyth Supplement 4

Monomyth Supplement 5

Monomyth Supplement 6

Monomyth Supplement 7

Monomyth Supplement 8

Monomyth Supplement 9

Monomyth Supplement 10

Monomyth Supplement 11

Monomyth Supplement 12

Monomyth Supplement 13

Monomyth Supplement 14

Monomyth Supplement 15

Monomyth Supplement 16

Monomyth Supplement 17

Monomyth Supplement 18

Monomyth Supplement 19

Monomyth Supplement 20

The Supplement 21

The Supplement 22

The Supplement 23

The Supplement 24

The Supplement 25

The Supplement 26

The Supplement 27

The Supplement 28

The Supplement 29

The Supplement 30

The Supplement 31

The Supplement 32

The Supplement 33

The Supplement 34

The Supplement 35

The Supplement 36

The Supplement 37

The Supplement 38

The Supplement 39

The Supplement 40

The Supplement 41

The Supplement 42

The Supplement 43

The Supplement 44

The Supplement 45

The Supplement 46

The Supplement 47

The Supplement 48

The Supplement 49

The Supplement 50

The Supplement 51

The Supplement 52

The Supplement 53

The Supplement 54

The Supplement 55

The Supplement 56

The Supplement 57

The Supplement 58

The Supplement 59

The Supplement 74

The Supplement 75

The Supplement 76

The Supplement 77

The Supplement 78

The Supplement 79

The Supplement 80

The Supplement 81

The Supplement 83

The Supplement 84

The Supplement 85

The Supplement 86

The Supplement 87

The Supplement 88

The Supplement 89

The Supplement 90

The Supplement 91
In Fiction